Dharma Merchant Services Review

Great reputation and customer satisfaction
Registered as a Special Purpose Corporation for the socially conscious merchant
Merchant Account Provider
Location: Vancouver, WA
Founded: 2007
Sponsorship: Registered ISO/MSP of Synovus Bank
# of Customers: 1,001-5,000
Phone: (866) 615-5157

Overview
Dharma is a Merchant Services Provider based out of Vancouver, Washington. Founded in 2007 in San Francisco, Dharma Merchant Services is a registered ISO/MSP of Synovus Bank.
Dharma is different from other merchant service providers in that they prioritize sustainability and giving back to the community. They don't just pay lip service to that idea, they are literally registered in the state of Washington as a Special Purpose Corporation. Most corporations are required to do what's best for the owners of the company. Being registered as a Special Purpose Corporation allows Dharma to treat community involvement in the same way they treat profitability. If social consciousness and sustainability matter to you, Dharma is a great option to handle your payment processing.
Dharma is not recommended for businesses processing less than $10,000/month in credit card payments, or businesses in high risk industries.
Products/Services
Dharma specializes in payment processing primarily for US based merchants. Merchant Accounts generally are set up using First Data for backend processing.
All merchant accounts include access to MX Merchant which is their online reporting and customer information tool. If you need to process card not-present transactions, this is where you will find your virtual terminal.
Dharma has a few EMV-compliant credit card terminals that they will sell you for a one-time fee, or you can pay $100 to have them reprogram your existing terminal to work with their system if it's compatible. (For more information, scroll down to the Equipment section).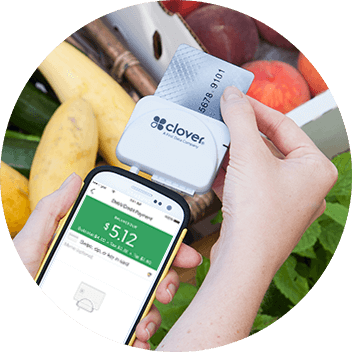 For mobile payments, Dharma utilizes the Clover Go unit which works with Apple and Android phones. You can purchase as many units as you want at $99 for the basic model or $139 for the version that works with contactless payment methods. You'll just need to pay the $10/month fee to integrate with the First Data payment network. The Clover Go units are slick allowing you to manage employee hours, inventory and more in addition to taking payments. One downside though, the units do not come with a warranty.
Rates & Fees
** Disclaimer – rates and fees are subject to change, please negotiate terms independently and review your contract. **
Dharma splits up their rates and fees by three different types: restaurants, storefronts (basically any brick and mortar that isn't a restaurant), and eCommerce. All three account types come with a $10/monthly fee and a $7.95/monthly PCI compliance fee as well as incidental fees for chargebacks and batch processing.
The main difference is in the rates for each transaction, which break down as such:
Storefront rates: Interchange + 0.25% + $0.10 per transaction
Restaurant rates: Interchange + 0.20% + $0.07 per transaction
eCommerce rates: Interchange + 0.35% + $0.10 per transaction
eCommerce accounts will also require a payment gateway, which is an additional $49 set up fee, plus $20/month and $0.05 per transaction. Available payment gateways include either NMI or Authorize.net.
Other fees you'll be on the hook for include:
Batch fee: $0.10 (charged per batch, usually daily)
Chargeback fee: $20.00 per instance
Retrieval fee: $5.00 per instance (on customer disputes)
Account closure fee: $25.00
Discounted fees are available for non-profits. This includes storefront rates of 0.20% + $0.10 above interchange and virtual rates of 0.30% + $0.15 above interchange.
Contract Details
Dharma only uses interchange-plus pricing which we like because it's fully transparent. They may not have the best rates, but they don't lock you in to long term contracts – you pay month to month, and if you don't like it you can move to a new merchant services provider with no penalty.
Other things we love about Dharma's contract is that there is no account setup fee, no monthly minimum spend, no annual fees, no leasing/rental fees on hardware and month-to month billing with no early termination fees.
Security
Dharma uses a 3rd party back office system to store customer information called MX Merchant. We are not aware of any security exploits in the MX Merchant software, or in the hardware options used by Dharma.
Equipment – Hardware/Software
There are three main types of hardware that Dharma payment services integrates with directly. The entry-level Verifone Vx520 is available for $249. You can also pair it with the Verifone Vx805 customer facing PinPad for $449 total. Here's a video demonstrating how EMV processing is done with a Vx805 connected to the Vx520 terminal.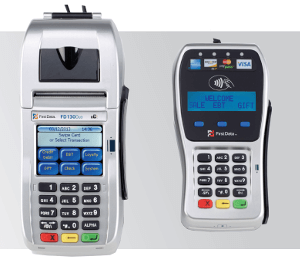 There is also a higher end First Data FD-130 if you need WiFi connectivity, available for $349 or $549 when you pair it with the FD-35 customer PinPad. Both of these options are a one time cost, with no monthly fees for the hardware.
If you're in the market for a full scale Point of Sale (POS) system, Dharma offers the Clover Mini and its 7″ color tablet screen, for $549 and $10-$40/month depending on options. All three options can handle swiped or chipped transactions, and are NFC capable to ensure you can accept things like Apple Pay. The Clover Mini offers a full suite of Point of Sale options not included with the other credit card terminals.
Customer Service & Support
Dharma gets generally high marks for their customer service and support, however they only have live support during normal business hours. There have been a handful of complaints generally revolving around how payment batches are processed or compatibility issues with hardware.
Dharma Merchant Services Ratings and Reviews
Socially conscious payment services company with a great reputation. They are a lesser known player in the merchant services industry but are a great choice if you process more than $10k/month.
PROS
Great reputation and customer satisfaction
Registered as a Special Purpose Corporation for the socially conscious merchant
CONS
Not a good choice if you process under $10k/month
Somewhat limited hardware options
Limited international support
Add your review
|
Read reviews and comments