Helcim Merchant Account Review

Fully transparent pricing
Great customer support
No commitments contracts
Merchant Account Provider
Location: Calgary (CA) & Seattle, WA (US)
Founded: 2007
Sponsorship: Registered ISO / MSP of Elavon, Inc. (subsidiary of US Bancorp)
# of Customers: 5,001-10,000
Phone: (877) 643-5246

Overview
Helcim is a merchant services provider based in Canada with a significant presence in the US. They're registered as an ISO/MSP for Elavon Inc., which is a wholly owned subsidiary of US Bancorp. Keep in mind that although Elavon doesn't have the best reputation when it comes to customer support, their infrastructure is top notch. In this case that's all that matters since your merchant account would be through Helcim and their sales/support reputation is very good.
Helcim is a good fit for businesses processing over $2,500/month in sales, or businesses who are processing international transactions. It's also a good fit for companies that watch their fees like a hawk, since they are very transparent with their pricing.
If you're a smaller business that is processing less than $2,500/month than there are probably better options that will save you money.
Products/Services
Card-Present Processing: Helcim offers services for retailers who have a physical presence where the customer swipes/dips their card. This includes all major networks Visa, MasterCard, American Express & Discover as well as contactless payments like Apple Pay and Android Pay if you have an NFC-compatible reader.
Virtual Terminal Processing: If you don't have a retail front, but need to process payments over the phone, or via mail order then Helcim has you covered here as well. Their virtual terminal is web browser based so you can accept payments as long as you have an internet connection on your computer.
Mobile Payment Processing: Helcim also offers Apple and Android apps that you can use on a smartphone or tablet in order to process payments, or you can opt for a physical card reader that plugs in to your favorite mobile device and allows you to swipe customer cards.
Gift Card Services & Processing: Gift cards can be a great way to increase sales and engender loyalty from customers, and Helcim offers two solutions for merchants:
Starter Package: includes 2-color printing, monthly balance reporting and the ability to be used online or in-store. Set-up cost is $25 and then there is a recurring monthly fee of $8.
Enterprise Package: includes fully custom printing on gift cards, online balance inquiry for customers and multi-location usage (for branches/franchises). Set-up cost is $99 and then there is a recurring monthly fee of $20.
Keep in mind that there is also a per transaction cost of $0.15 on top of the monthly fees and you'll need to pay for the cards themselves. Cost of the cards ranges from $0.35/each to $1.15/each depending on how many you order at a time. Orders are placed in quantities of 100, 200, 500, 1,000, 2,500 and 10,000 with the cost per card getting cheaper the more you buy at a time.
Rates & Fees
** Disclaimer – rates and fees are subject to change, please negotiate terms independently and review your contract. **
Helcim is transparent with their pricing, posting their rates in interchange-plus format so you can see exactly what their mark-up is. Remember, a large portion of your fees for processing credit/debit cards is not negotiable since they are not set by your merchant account provider. See our guide on Payment Processing Rates and Fees for more details.
Helcim offers a Standard Merchant Account (Retail) and Virtual Merchant Account (Internet) depending on your needs, with bulk pricing for each. Pricing is as follows:
Retail – $12/month fee (US and Canada) and a rate of 0.18% above interchange + $0.08 per transaction for up to $50,000 in monthly transactions. If you need a mobile reader you pay an extra $30/month and they'll give you the mag reader (swipe reader, no chip) with the app. Rates on mobile processing are the same as standard retail. Additional pricing tiers are:
$50,001 – 100,000 = 0.16% + $0.07
$100,001 – 500,000 = 0.14% + $0.06
$500,001 – 1,000,000 – 0.12% + $0.05
$1,000,001 + = 0.10% + $0.05
Internet – $25/month fee (US and Canada) and a rate of 0.36% above interchange + $0.25 per transaction for up to $50,000 in monthly transactions. The Internet Pro Plan includes payment gateway with credit card vault, recurring billing, payment pages, email invoicing, cart integration, etc. Additional pricing tiers are:
$50,001 – 100,000 = 0.24% + $0.20
$100,001 – 500,000 = 0.18% + $0.15
$500,001 – 1,000,000 – 0.15% + $0.10
$1,000,001 + = 0.10% + $0.10
* Keep in mind these rates are negotiable and Helcim has been known to price match if you get better rates from a legitimate competitor.
Additional fees you might run into:
Chargebacks = $15
Insufficient Funds = $25
Change to Bank Account = $25
Change to Name on Account = $25
Some fees you'll see at other merchant account providers like Monthly minimums, Setup/application fees, Statement fees, PCI-compliance fees, Early termination fees, Non-qualified fees and other hidden fees are NOT an issue here. As we said, Helcim is very transparent with pricing which we like.
One thing to note about pricing, if you're price shopping competitors and you run across tiered pricing it will be difficult to do an apples-to-apples price comparison. Helcim has calculated what their average effective rate is based on percentage of transaction by card type in order for you to compare prices. It works out to roughly:
U.S.: 2.13% + $0.25 per transaction
Canada: 2.27% + $0.25 per transaction
This is what your overall transaction costs would be when you add the interchange rate, card-brand fees and fixed acquirer fees on top of their cost + margin. As we've discussed before, the bulk of this is non-negotiable. But since interchange rates, card brand fees and fixed acquirer (FANF) fees are the same for all merchant account providers, you know that the rest of the cost on top of that is negotiable since it is their margin.
Contract Details
The most important thing to look for here is if there are account set-up fees and/or early cancellation fees for accounts or equipment and with Helcim there is none of that. All contracts with Helcim are month to month which gives you the flexibility you need. See their website for more details.
Equipment – Hardware/Software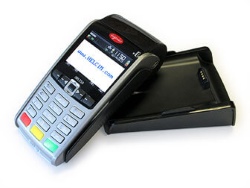 Hardware: For retail merchants who conduct business in-person, Helcim offers a range of Ingenico POS terminals such as the Ingenico iCT220 (wired) for $199, iWL220 (wireless – short range) for $549 and iWL250 (wireless – long range) for $549. They offer payment terms on the terminals so you don't have to pay all at once.
Helcim also offers a really nice future-proof POS called the Poynt Smart Terminal which can handle virtually all payment technologies and has a magnetic swipe reader, EMV chip reader, NFC, Apple Pay and of course manually keyed credit card transactions. At $849 it's not cheap, but check out the video for some of the features: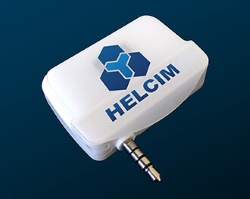 Mobile: For anyone needing to process mobile payments, Helcim offers a MagTek Card reader that works with Android, iPhone or iPad. The reader plugs in to the headphone jack of the mobile device and all encryption is done prior to the data hitting your device. You will need at least 3G internet connection for it to work properly though.
If you primarily process payments via mobile readers, then you'll save money going with Square up until around $1,500/month in transactions. After that point, the savings go up astronomically with Helcim's mobile option.
Virtual Terminal: If you're processing payments for "card not present" situations such as phone orders and mail orders, you can use their virtual terminal which is basically a software version of what the retail outlets use. Helcim also offers offers Android and Apple apps.
Security
Helcim is PCI Level-1 compliant. They utilize AVS fraud protection and all transactions are PCI DSS Secure. Your PCI compliance comes at no additional cost and grants you $100,000 breach coverage for any mitigation fees.
Customer Service & Support
Helcim has a very in-depth FAQ section on their website, native English speakers answer their phones and they are respond quickly to emails.
Some Customer Reviews
"The experience with Helcim has been great, they have excellent employees that are extremely helpful and pleasant. They have lower rates than the company we were with and switching to them was an easy process. I would recommend Helcim to anyone looking for a credit card merchant!" ~Chase D. from BBB review

"As a programmer, I have also worked with Helcim's Payment Gateway API. Their API is top-notch, and their documentation is incredibly useful. They provide demo accounts that allow you to test your payment processing before going live, and it works like a charm." ~Lexi W. from BBB review
There only appears to be one complaint on the Ripoff Report website, and it was left anonymously in 2011, with very few details, so take that for what it's worth.
Recap – Pros & Cons
With their transparent pricing and stellar reputation, you really can't go wrong with Helcim. If you're a smaller merchant processing less than $2,500/month then there are cheaper options for you, but other than that there really isn't much to complain about with these guys.
Update for 2021 – from Helcim
As often happens, things change after we review a company. Helcim recently contacted us to let our readers know some of what is new. First, the on boarding process to get your merchant account set up with them has been streamlined. What used to take several days or a week, can be done minutes.
Additionally, Helcim has updated overall pricing, eliminated per-occurrence fees, added brand new mobile apps and hardware, and added additional tools, free of cost, like an enhanced online store to help businesses transition online and even online food ordering to help restaurants in need. Several of these changes came about due to COVID, and have been integrated into their business model.
Helcim Merchant Services Ratings & Reviews
Helcim is a rare breed in the payment processing space, as they seem to have near universal acclaim and high marks for customer support.
PROS
Fully transparent pricing
Great customer support
No commitments contracts
Add your review
|
Read reviews and comments