Fattmerchant Merchant Account Services Review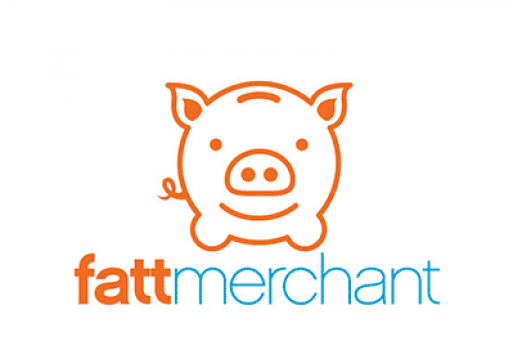 Innovative subscription based pricing
Clean looking user interface
High marks for customer service
Merchant Account Provider
Location: Orlando, FL
Founded: 2014
Sponsorship: Registered ISO / MSP of Fifth Third Bank
# of Customers: 1,001-5,000
Phone: (855) 550-3288

Overview
Fattmerchant is a Merchant Services Provider (MSP) based out of Orlando Florida. They're relatively new, having formed in 2014 and they're a registered ISO / MSP of Fifth Third Bank. Their key differentiator is that they offer a different pricing model than most other merchant account providers. Whereas most MSP's charge either an interchange plus model or tiered pricing, Fattmerchant actually charges a monthly subscription fee instead. This means they do not charge you a percentage markup on each transaction, which may or may not be cheaper for your business depending on your needs (more details below).
Fattmerchant provides credit card processing and payment facilitation for small businesses ranging from 250k-50M in processing. They are a value added provider meaning they lay their software & services over the backend processing of a larger provider – in this case Vantiv / NPC. By the way, if you're curious about the name – the "FATT" in the name Fattmerchant stands for Fast Affordable Transaction Technology, according to Founder/CEO, Suneera Madhani.
Products/Services
Card-Present Processing: Fattmerchant offers several different EMV terminals for traditional brick and mortar retailers. So if you need to accept counter-top payments, you can either get a new terminal as part of your plan with them, or they will work with you to integrate into your current Point of Sale (POS) hardware.
Virtual Terminal Processing: You can also accept payments from any internet connected device using their proprietary virtual terminal platform. Whether you want to use an iPad, laptop or other computer, accepting payments with the Fattmerchant virtual terminal is smooth and easy. Here again is an example of where being a new company with new software has been beneficial since they're not anchored down by a legacy code base on their platform.
Mobile Payment Processing: For businesses that need a mobile payment solution, they offer the aptly named Fattmerchant Payments Mobile app for iPhone and supposedly coming soon for Android. You can also accept old school magstripe cards, EMV chip cards and even NFC payments (such as Samsung Pay or ApplePay) simply by connecting to the provided Bluetooth card reader. Check out their Mobile Payment demo for some more features.
Rates & Fees
** Disclaimer – rates and fees are subject to change, please negotiate terms independently and review your contract. **
Contract Details
Fattmerchant offers month to month processing arrangements, so you're not locked into long term commitments. There aren't any early termination fees for switching if you want to leave them and use another payment processor.
Security
Fattmerchant utilizes an entire suite of fraud detection software and has not been involved in any recent customer data breaches.
Equipment – Hardware/Software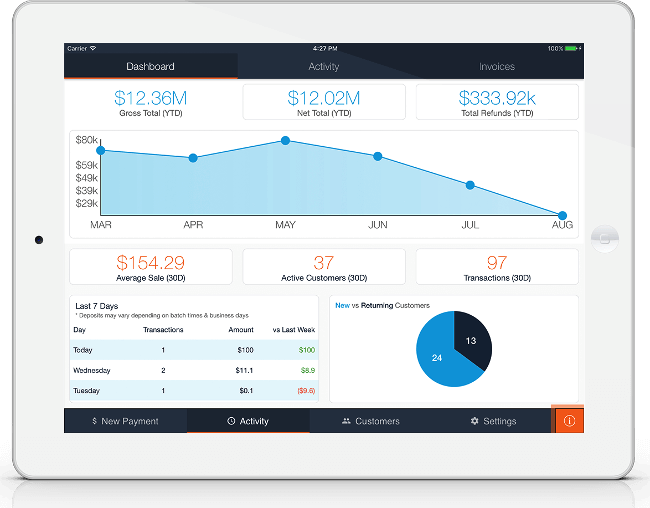 Fattmerchant integrates with many third party POS hardware systems. When signing up, you'll need to work with one of their representatives to determine what hardware you need and then they'll do the integration for you. If you have existing hardware you'll want to give them a call to ensure they can integrate with your system.
Being a newer provider, Fattmerchant was able to build their software from the ground up without legacy software concerns so this is an area where their product really shines. Everything feels shiny and new because it is. They've really put a lot of effort into their reporting dashboards, and it shows.
It's amazing how much clearer things are when you can properly visualize key metrics for your business in a user friendly dashboard.
Customer Service & Support
Fattmerchant earns high marks for customer support. They don't use offshore call centers and are very responsive via chat, email or phone.
Some Customer Reviews
"We have been with Fattmerchant for four months. The customer service has been great. Most importantly, we now save a lot of money on our merchant account fees." ~Michael C. from BBB review

"We enjoy the service machine of Fattmerchant. Also, not paying the additional credit card processing fee was a big savings for us since we process quite a bit each month. I've only had a couple of times I needed to call their reps but both times they were very responsive and knowledgeable. I'm a big fan of Fattmerchant. And I've referred them to a few other people that own businesses here locally." ~Rob from Consumer Affairs review
Recap – Pros & Cons
/review
Fattmerchant Merchant Services Ratings & Reviews
Although Fattmerchant is a newer payment processor, their reputation for customer support is great and their offerings appear to be good for most merchants.
PROS
Innovative subscription based pricing
Clean looking user interface
High marks for customer service
CONS
No Android support for mobile
Newer company with limited history
Add your review
|
Read reviews and comments