We see a lot of confusion about the difference between Elavon Fusebox and Elavon Converge, the two payment gateways offered by the merchant service provider Elavon. So to clear that up, we should probably first clarify what a payment gateway actually is.
What exactly is a Payment Gateway?
There are many ways to sell products or services online, but in the end, someone needs to pay for it. Since most web developers do not have the ability (or desire) to custom code an interface that directly links to the bank that is processing the credit card, there is a "middleware" piece of software that does the heavy lifting for you.
So when you build your website all you need to do is build a shopping cart that enables customers to pick what they want. In fact, even this part is generally done with a pre-built solution such as Shopify, WooCommerce, Magento etc. Once your customers are ready to checkout, that process is handled off-site through a payment gateway so that you don't need to store credit card numbers or other sensitive information, and you don't need to connect directly to the banks that are authorizing those charges behind the scenes.
However, if you're not selling online then you likely won't need a separate Payment Gateway. If you're running a brick and mortar business then you're using a Point of Sale system which takes care of this for you. This brings us to…
What is the difference between Elavon Fusebox and Elavon Converge?
Elavon is one of the largest payment processors in the world, and they offer two solutions as a payment gateway. However, they are using that term pretty loosely. Elavon Converge is a traditional payment gateway similar to what you would get with something like Authorize.net. If you have an online store and use Elavon as your merchant service provider, they make Elavon Converge available to you as the payment gateway that will connect your website shopping cart with their banking infrastructure. You aren't required to use their payment gateway, but it is an option.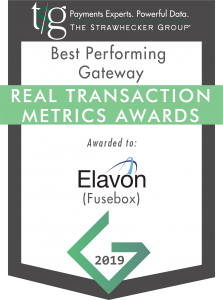 Elavon Fusebox is a much more complicated piece of payment processing middleware, and the fees to use it are much higher as well. Even though Elavon calls Fusebox a Payment Gateway, it isn't really in the traditional sense of the word. You would never use Elavon Fusebox on your website to process payments on your shopping cart, for instance.
Elavon Fusebox is used to connect your point of sale hardware to Elavon's payment processing infrastructure if your point of sale system does not have an existing integration with Elavon. Ideally, you would have a direct connection between your point of sale hardware and Elavon, but many times there is legacy hardware to consider, So Elavon built Fusebox to solve this problem.
Fusebox integrates with your point of sale hardware and then connects to Elavon's payment processing infrastructure on the other end, like a magical mystery box. There are additional fees to use this though, so you'll want to see if those costs are outweighed by replacing your point of sale infrastructure with something that directly integrates.
So to recap – if you are using Elavon for your merchant account and you have an online store, then you would use Elavon Converge or another payment gateway like Authorize.net for instance.
If you're running a brick and mortar business and using Elavon as a merchant service provider, then you have a few options. Your point of sale connects directly to Elavon, it connects through some other middleware that already exists on your point of sale, or if all else fails you can utilize Elavon Fusebox to process those payments.
Now if only they would have clearly stated this on their website we wouldn't get the question as often as we do!